The Coastal Museum of Bangsbo is situated in the beautiful manor of Bangsbo. The manor dates back to 1364 and it lies in the heart of the idyllic Bangsbo area.
The primary exhibition at the manor shows the life around 1900 when the manor was owned by the bon vivant Johan Knudsen. Due to Johan Knudsen the manor of Bangsbo became a hot spot for some of the most known Scandinavian writers and artists around 1900. They formed a cultural and festive fellowship called the Circle of Bangsbo. Thus a visit to Bangsbo provides a walk in the footsteps of the Danish writer Herman Bang and a fascinating glimpse of the colourful life at the manor.
Apart from the exhibitions and collections in the manor house the museum also shows a fascinating exhibition about the German occupation in Denmark and Northern Jutland. The exhibition provides a poignant look into various tales of destiny and into the dangerous task that brave men and women took on in the Danish resistance.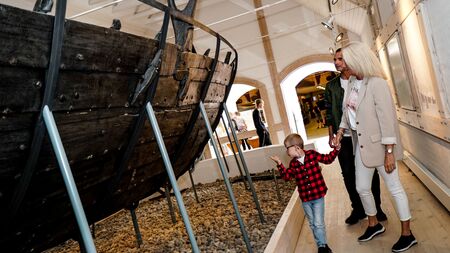 In the same building you will also find a fascinating exhibition on seafaring from the middle ages up until today. The exhibition shows impressive figure heads, different ship models built at a ship yard in Frederikshavn and marine archaeology. The crown jewel of the exhibition is a unique and impressive ship from 1163 that was found in a stream in the small town of Elling in the municipality of Frederikshavn. Hence the ship is called "Ellingåskibet" (the ship from the stream in Elling).
The Coastal Museum of Bangsbo also has a ticket office, a nice café and museum shop with books and souvenirs in the main building. All year round the museum provides guided tours, talks and activities especially during school holidays.
GUIDED TOURS
Should you be interested in booking a guided tour in English please send a request to info@kystmuseet.dk